A Modern Childcare Center Management System
All you need to manage and grow your business effectively.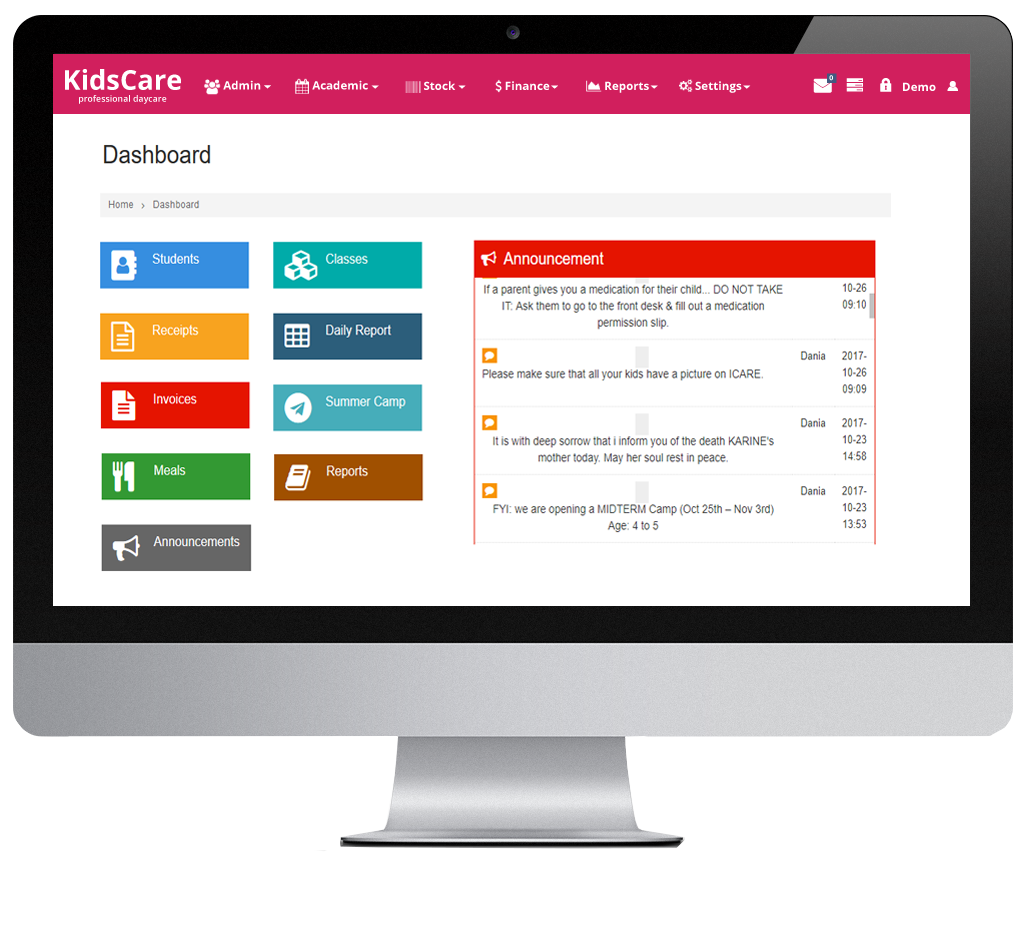 Modernize Your Center
KidsCare is the best choice to manage your child day care center easy and pain-free. Kidscare's flexible modular format simplifies management of child and family information , class attendance records, invoicing, employees' records, accounting, expenses and all vital functions of childcare center at once with our dynamic one-stop software.
24/7 Accessibility
Access your data in real-time from anywhere at any time with a broadband Internet connection.
Simple and Easy to Use
User-friendly software that optimizing your operational and financial workflow will become second-nature in no time.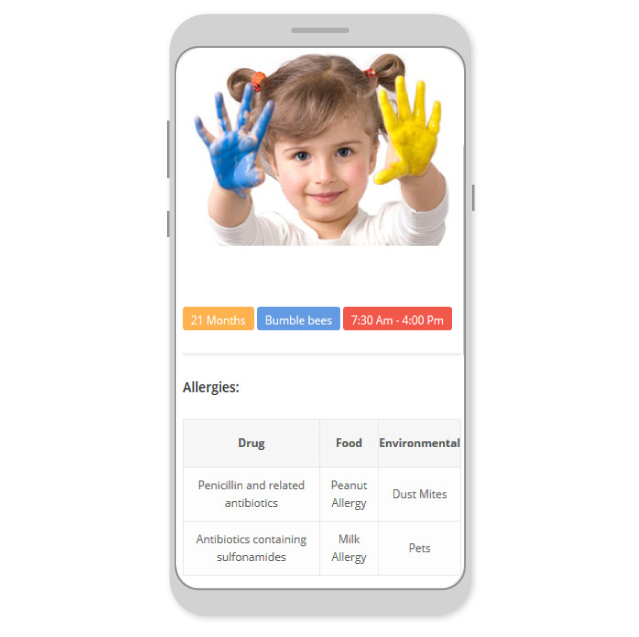 Mobile
Application
Delight Parents
Engage parents with digital daily sheets, pictures, Notifications, videos and educational information.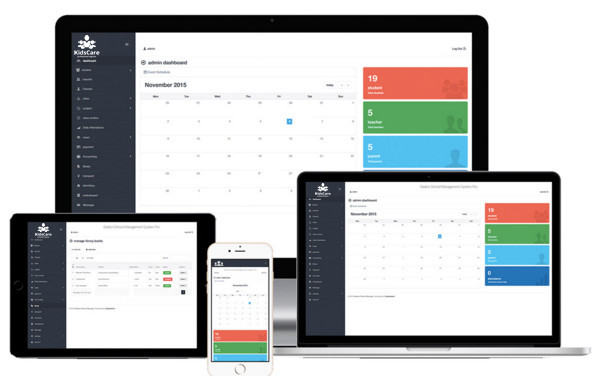 Comprehensive
Functionality
Stand Out From The Competition
Designed specifically to help you keep your childcare well-managed, with more features and tools.
Empower staff.
Engage parents.
KidsCare combines an intuitive, easy-to-use solution with the depth of capabilities that you and your customers require.
Administrator
Run your business effortlessly and powerlessly. The Children finally come first.
Parents
Keeping informed is easy with either their desktop or mobile device.
Get Organized
Save time & money
With KidsCare you can streamline business operations to spend more time doing what you love. Eliminate paperwork by keeping all of your information in the Cloud.
Going paperless

Manage child, parent and family information with just a few clicks of the mouse.

Personal Notes

Extensive demographic and enrollment data
Parent Profile
Emergency contacts and authorized pick-ups
Checklists for forms and permissions
Electronic Document Storage
Notes fields to track accidents, development issues, and other comments

Medical Information

Allergy List
Immunization Records
Medications
Doctor Contact Information

Simplify the scheduling process

With the least effort you'll be able to control enrollment, class capacity, scheduling, staffing, and tracking attendance.

Class Room

Manage child enrollment against classroom capacity.
Plan child class advancement and seasonal changes while maintaining current schedules.
Record vacations and planned absences without affecting normal schedules.
Anticipate the future availability of enrollment slots.

Staff

Fill out meals, snacks, sleep checks, toileting, activities and observations, medication and mood for individual children or multiple children at a time.
Daily/Weekly Work Log.

Make the parent experience easy

Parent engagement is a snap with KidsCare. From palm-of-your-hand messaging capabilities to a fun photo-sharing feature.

Parents

update their child's information.
Receive digital daily sheets with meals, naps, activities and more.
Receive timely updates throughout the day.
View daycare photos, reports, menus and calendars.
Message educators in their own private, secure account.

Child Care

Send messages, alerts and reminders to individual parents or an entire room
Set up triggers to instantly message parents about balances due, birthdays, and more!
Set up permissions so teachers and administrators can create content and you can approve it before it's sent out.

Make billing and payment processing easy

Save time with tools designed for processing child care payments.

Tuition, Billing, and Expense

Auto-Bill tuition daily/weekly/bi-weekly/monthly.
Flexible billing—automatically apply group discounts.
Make customizable adjustments to any account manually.
Invoices and Receipts by email, text, or print.
Keep tabs of all your facility expenses from payroll to supplies.

All Staff information in one place

Maintain complete records of teaching and non-teaching staff. All details are available at one place for example name, start and end dates, centre details, Education and Qualification details.

Staff Management

Employment and benefit data
Performance reviews
Medical and contact data
Vacation, Sick, Training, Holidays, etc.
Electronic Document Storage

Payroll

One Step Payroll Calculation
Track Employee Advances
Deduct income tax
Generate pay slips

Made bus tracking handy and affordable

Parents

No more waiting in the streets.Receive automatic notification when the bus is nearby
Ensure that your kid is off-board after arriving at the school/nursery
Ensure that your kid is on-board before departing from the school/nursery

Admins

No GPS Needed
Live bus tracking during the daily commutes
Track the bus and receive the important notifications

Simplify Party Management

There are many details to coordinate to host an unforgettable birthday party. By using KidsCare you can simplify and streamline creating and managing birthday parties.

Automate Your Business and Boost Efficiency

Post announcements using different colors
Create "to do" lists and check off completed tasks
Instant Alerts birthdays in the next 10 days
Store, edit, share and process documents

Planning and forecasting made easy

Make better business decisions with the right reporting.

Powerful & customizable reports.
Displays key performance indicators in bar chart.
Generate Customer Statements.
View payments in any date range organized by payment method.
Student tuition report: See how much each student pays, and who is responsible for payments.

More Features

Fully Customizable

KidsCare to give you not just the perfect user experience but also a completely personalized one. It does not matter if it is the process you need customized or the looks.

Responsive

Use KidsCare on all devices, wherever you work from. It syncs data automatically across your computer, iPad, iPhone or Android. And of course, all your data is protected.

Real-time Data

Get real-time visibility with customized metrics and dashboards, to maneuver your childcare center in the right direction, with data-driven decisions.

Advanced Technology

KidsCare uses the most advanced technology to create the ultimate, most user-friendly experience for you – all focused on helping you manage and grow your center, large or small.

Discover how easy it is

We can help you streamline your work that will drive your business forward. Get started with KidsCare today.

No Setup Fee | low monthly fee

Plans & Pricing

We know that every childcare center is unique, that's why we've created a variety of plans to fit your specific needs. So, whether you are a small childcare center or operate multiple centers, we have plans to suit your every need.

Lite

Unlimited user
One Center
100% Free support
40 Students

Manage your small center with all the right tools that will keep operations running smoothly so you can focus on your clients.

Professional

Unlimited users
One Center
100% Free support
120 Students

Grow your medium-sized center with enhanced features designed specifically to optimize efficiency and client relationships.

Enterprise

Unlimited users
Unlimited Centers
100% Free support
120+ Students

Ultimate is great for high-volume or multi-location childcare center. It's what you need to keep your business organized and growing.

"KidsCare has become a huge asset for our center! Parents rave about the program and love the engaging photos, and daily reports. Teachers all agree that it is extremely easy to use, intuitive, and replaces piles of paperwork"

-Dima, Childcare Center Owner

"There is no more photocopying and writing out everything for each child, because of this, We have more time to spend with kids."

-Manal, Childcare Center Teacher

"I love getting pictures of my child throughout the day while I'm at work. It makes me feel like I'm a part of his day."

-Sarah, Childcare Center Parent